Buy Now Pay Later: Generation Z Attitudes & Usage Study
For more information or interviews, contact:
Katie Wilson, Marketing Manager,
Insights in Marketing
Phone: 847.835.0500
Email: info@iimchicago.com
Download high-res graphics here
Read IIM's Gen Z financial services research findings here
Download IIM's Gen Z BNPL Usage infographic here
For Immediate Release
Will This Holiday Season Mark the End of Layaway and Debit Cards? An Insights in Marketing Study Explains Why More Gen Z Consumers Use Buy Now Pay Later Than Any Other Generation
CHICAGO, Dec. 14, 2022 – As the holiday shopping season heats up, buy now pay later (BNPL) apps are a hot commodity with younger consumers. 
Insights in Marketing recently surveyed 1,000 consumers, ages 18-25, and conducted online focus groups to learn why more Gen Z consumers are drawn to BNPL than any other generation. The independent Insights in Marketing financial services study revealed 100% of survey participants discovered BNPL apps while shopping online. One in five respondents had tried BNPL, and 80% said they used these microloans more in 2022 than in 2021.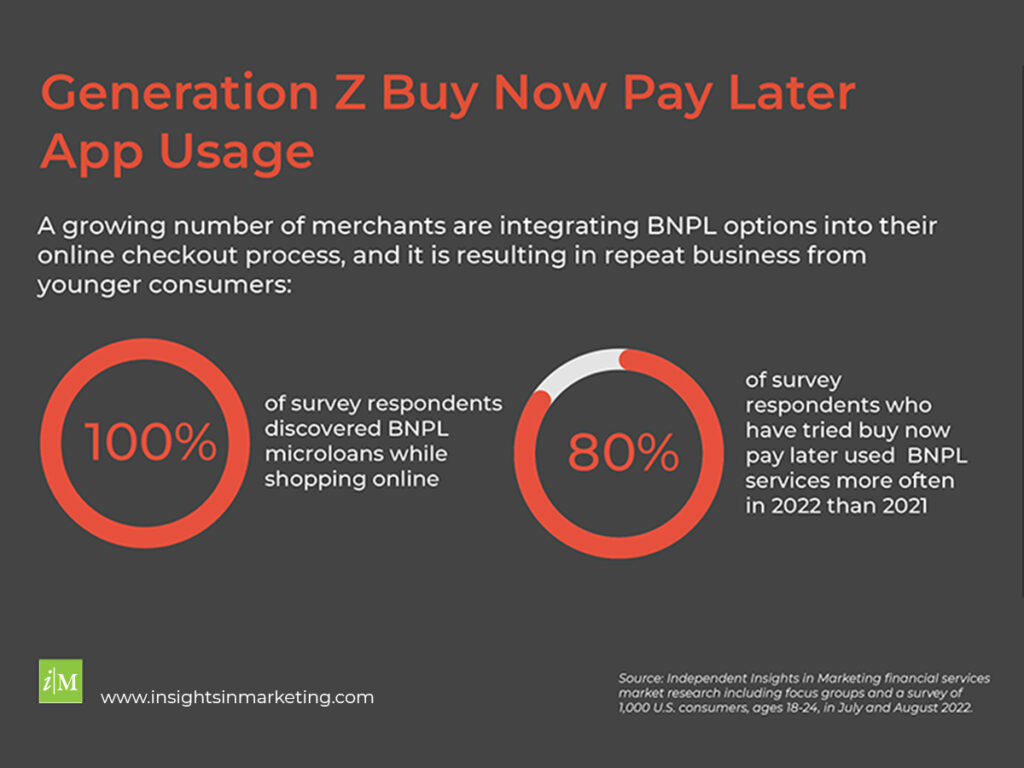 Which BNPL Apps Do Gen Z Consumers Use Most?
Most Zoomers rely on word-of-mouth recommendations from friends and family members before trying BNPL, and then tend to use multiple BNPL apps or websites, mainly Afterpay (58%), Klarna (44%), Affirm (29%) and PayPal Credit (27%).
Why do Zoomers use BNPL?
All respondents agreed quick approval and interest-free transactions are the main draw, and ranked other reasons:
Avoid credit card debt and fees
Receive merchandise immediately (vs. waiting to complete layaway payments)
Stretch budgets
Make affordable payments in a set timeframe
Establish a credit history for future loans and rewards credit cards
What do Gen Z consumers buy with BNPL apps?
Younger consumers believe it's safer to use BNPL than a debit card online, and use BNPL to make a series of smaller interest-free payments when buying apparel, technology, appliances/furniture, selfcare/cosmetics and travel.
Why do Zoomers stop using BNPL?
Most respondents limit their use of BNPL due to:
Concerns about overspending
Buyers' remorse after impulsive purchases
Difficult returns
Delayed refunds
Missed microloan payments
Most Gen Z consumers participating in the Insights in Marketing study are on a quest to build a solid credit history for future car and home loans, and would rather pay with a rewards credit card. However, many don't qualify for credit cards, or cannot afford the annual fees.
About Insights in Marketing
Founded in 1989, Insights in Marketing is a research-based marketing consultancy representing global brands. Learn more at Https://insightsinmarketing.com
Additional Downloadable Graphics Available HERE
Related Insights in Marketing Resources