If mobile engagements aren't already among your frequently-used approaches for both qualitative and quantitative data research, you're missing out.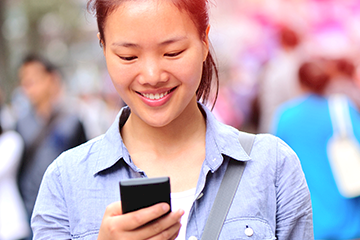 Over three-quarters of American adults and a staggering 92% of US adults aged 18-29[1] own a smartphone.  And, roughly half of American adults say they "couldn't live without" their smartphone[2].  Leveraging this usage and dependency on their devices, mobile research offers a highly accessible and direct way to understand consumers' day to day lives and in-the-moment decisions.
While specific features vary by platform, mobile engagements allow participants to share content ranging from detailed written responses to active social media relationships and interactions, and of course photos, videos, and screenshots, and more.  This flexibility gives research teams the ability to "see" into their homes, shopping experiences (online and in-store), online communities, meal prep and mealtimes, personal care routines, hobbies, vacations, and just about anything else you can imagine…all with a degree of unobtrusive access not previously available.
Mobile also offers the flexibility of working well as a standalone approach, and as a single component of a hybrid approach.  For example, at IIM, we often use mobile in conjunction with online bulletin boards (leveraging a platform featuring a mobile app, which seamlessly integrates participants' mobile posts into the online platform for each client and researcher review).  This combination of approaches offers tremendous convenience to participants, since they have the option of providing feedback from their desktop/laptop or mobile device, whether at home, work, or on the go.  By layering these approaches, we can explore, for example, pre-shop, in-store, and post-shop experiences all within a single engagement with a single set of consumers to understand the full, 360-degree view of their purchase decisions and behaviors.
And, with more and more shopping and buying happening online, mobile is also a tremendously efficient option for understanding those virtual experiences.  Combining mobile with live webcam interviews lets the research team view the mobile device screen in real time while consumers are shopping their favorite sites or exploring a client's site, helping the team understand those decisions and navigational experiences as they're happening.
Just like any approach, mobile is not the right solution for every research initiative. But, with the flexibility and convenience it offers participants, and the direct, near-constant access to consumers it gives research teams, it has become an extremely powerful tool in the kit.