It's no secret qualitative and quantitative market research are highly complementary to each other and, together, provide a more comprehensive picture of the issues at hand than either type of research on its own.  While this is true, in general, it's also very true for combining quantitative research specifically with online qualitative.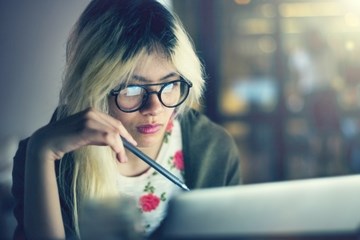 You can conduct online qualitative in a variety of formats including asynchronous discussions, real-time focus groups or one-on-one interviews, digital diaries, and mobile engagements.  Marrying quantitative with these techniques can provide both the richness of the "whys," along with the measurement to provide reliable data to enable well-informed decision making.
Pairing Online Qualitative & Quantitative Methods
While you may be familiar with some of these approaches, others may be new concepts. Here are a few examples of Insights in Marketing leveraging online qualitative and quantitative to make the whole greater than the sum of its parts:
Leveraging In-Depth Interviews
Utilizing online in-depth interviews can help inform survey development for broad-scale quantitative research. For example, while working with busy healthcare professionals, many participants had difficulty attending a focus group due to their schedule. Learnings from in-depth interviews served as the basis to formulate future sales strategies.
Prototypes & Digital Diaries
Prior to a large-scale quantitative product test, category users received product prototypes and shared their experiences in a digital diary – complete with photos, videos and written feedback.  This method helped the team understand delights and opportunities for product development.  It also allowed us to place a reduced number of refined products in the follow-up quantitative test in which consumers evaluated the final formulation to confirm product/concept fit.
Targeted Qualitative Research
Following a segmentation study, we leveraged online qualitative market research to gain a more in-depth understanding of the target segments that helped to bring the segments to life for the team – complete with pictures and videos.
Attitude & Usage Studies
To better understand shopping behaviors in addition to overall category dynamics, we conducted a strategic Attitude and Usage study. From that quantitative data, additional shopping-related questions arose, so respondents were given category shopping tasks – both more open-ended and specific task-oriented – and asked to record their experiences to share in photos, videos and words and report back.  The online qualitative allowed us to ask additional questions which provided a more complete picture of their mindset and decision making in-store.
Data-Driven Decision Making
These are just a few examples demonstrating how matching the right combination of online qualitative and quantitative can work seamlessly to provide more richness to your data while still providing projectable measurement.  This combination provides more thorough and deeper understanding to hel