Earlier this month, I wrote part 1 of this blog series: What to Look for in a Qualitative Marketing Research Partner. While it's great to have a list of what to look for; it's also good to have a list of what not to look for so that you can identify any warning signs that your potential partner may not be a right fit. Some of you may be shocked by some of the things that made my list! Often clients come to us looking for these qualities, but in reality we have discovered that they will not set your research and your research relationship on the right track.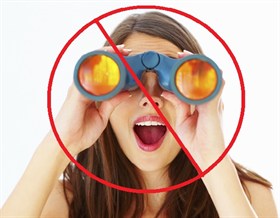 So without further ado, here is my list of what NOT to look for in a qualitative research partner (don't say I didn't warn you!!):
A Know-it-All in Your Category and/or Industry – Marketers, New Product Developers, and Researchers alike all want to know that the qualitative researcher/company they are considering has relevant industry and category experience. While in some scenarios this is beneficial, by far the most beneficial qualities of a research partner are their ability to connect with consumers and their ability to remain objective. An argument can be made that a consultant with too much category / industry experience can be jeopardizing both of those essential qualities.
The Lowest Price – Researchers and marketers should always consider value and not price. Clients that are too focused on price often distract research partners from diving head first into your business challenge and coming up with the best solution. A relationship focused on price is trust limiting and hinders your partner's best thinking on how to solve your problems. A focus on value, on the other hand, is more trust promoting and can really spur some great ideas and creative approaches.
Too Good to Be True Recruiting – Some research partners pride themselves on churning out recruited participants for your study overnight. Speed is great in research, but what clients really want are results and actionable insights. In order to get those, you need the right, articulate consumers in the room at the right time. If your research partner doesn't recruit and screen for articulate respondents (check out IIM's approach here) than your research project may be doomed to fail before it even begins.
Qualitative Tool Experts – Some of you may be scratching your head with this one wondering what I mean by "qualitative tool experts." Well, in consumer research the consumer should always come first and not the tool or approach (proprietary techniques/aps/software) used to execute the research. Regardless of whether qualitative is online or offline, a fancy piece of software/application should not distract you from making sure your consumers' needs are met and that the solution designed is customized for your study. Your research partner should be tool agnostic and focused on identifying the needs of the consumer/project first prior to assessing the tools used to execute the research. Only thoughtful research design should be delivered. After all, you don't want an out of the box research study do you??
Have any more tips/trick to watch out for? Add them here!
Also, read IIM's post on what to look for in a QUANTITATIVE research partner by clicking here!