A Season For Giving
The holiday season is traditionally a season for giving. According to research from the Center of Philanthropy, charitable donations peak during the holiday season with the average person making 24% of their annual donations between Thanksgiving and New Year. Giving not only feels good, but also helps companies tangibly demonstrate their values. This especially rings true for us at Insights in Marketing.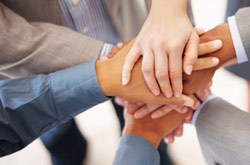 IIM on Giving Back
Around the holidays and throughout the year, IIM partners with a diverse array of causes such as: Hillside Food Pantry; Starlight Foundation; Center for Enriched Living; and, Teddy Bears for Kids (founded by our own employee Steve Mapes), just to name a few. This diverse group of organizations provides: food to needy families; assistance to hospitalized children; jobs and skills training for the disabled; and, a comforting teddy bear to sick children.
We engage with these and other charities because it is and always has been a key element of our core values (who we are as both individuals and as a company). We thoroughly believe in the efforts we support and in their commitment to diversity, passion for helping others and the integrity they demonstrate. Importantly, at IIM, we recognize that our efforts would not be possible without the support from our clients and partners. When you choose to work with Insights in Marketing you enable us to deepen our relationships with these great organizations. For that we cannot thank you enough.
Giving Back & Your Brand
Not only does giving back reflect our brand, but it often reflects many other brands' values/personality as well. Beyond the obvious feel good reasons to give, there are real strategic reasons for giving especially if your target market is women. In fact, findings from our latest study highlight that:
Women are more concerned about the well-being of others then men (66% of women vs. 50% of men agree that they "believe in caring for the well-being of absolutely all others").
Women are also more likely to value "devoting myself to those around me" (63% of women vs. 53% of men).
Consumers (especially women) that you are trying to attract likely share your brand's values and will be drawn to your brand and its causes. Several companies, like Target and General Mills, have recognized this and have experienced a deeper relationship with their consumers through their longstanding efforts to support education.
We recognize that many of your companies give not only during this season, but all year long. We thank you for living your values and for helping us live ours. We look forward a great 2013!
HAPPY HOLIDAYS!
To learn more about the causes that IIM supports, please access the below links: