Summer is here and the drive to and from work is getting longer and longer, the idea of working from home more often comes to mind.  For those of you that this is not an option, this blog for you!  This blog will provide you arguments to your Leader's challenges and will also provide benefits that will allow you to build a strong business case.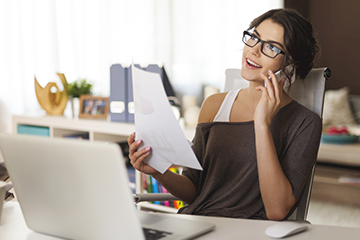 Forward-thinking business executives recognize that trends are clearly moving towards embracing flexible work as a way of conducting business, rather than the same old way of doing business.  Currently, 43 percent of employed Americans said they spent at least some time working remotely, and 60% of companies offer their employees telecommuting opportunities (Gallup State of the American Workplace survey.)
There are far more benefits to a company allowing employees to work part to full time from home than challenges.  So, let's get the challenges out of the way first. Two key challenges that are often the reasons for rejecting a work from home program are team collaboration and lack of employer control.
Challenge 1:
Surrounded by team members, employees collaborate and connect with each other and accelerate innovation, creativity and productivity in ways that working remotely sometimes cannot.
Solution: The rise of collaborative chat workspaces—Slack, HipChat, Microsoft's Teams, etc. have helped eliminate this communication issue. The millions of dollars in funding they've attracted shows that there are businesses that have found a way to solve one of the big telecommuting issues: an inability to coordinate, brain storm or problem-solve with colleagues.  There is also well-established video conferencing such as Skype that are available when you need a face-to-face meeting.
Challenge 2:
Business leaders assume remote working employees take advantage of the policy and are not really working. Employers lose direct oversight and cannot witness productivity firsthand – they feel a lack of control.
Solution: Managers need to establish goals, rhythms of communication and metrics, then they would know whether someone was being productive or not, regardless of where the person was physically sitting. If an employee delivers quality work on time in less time than others could do it – does it matter how little time it took him/her to do it? Managers need to focus on quality- timely deliverables versus when an employee checks in and out of work.
There are so many cost and HR benefits that they outweigh these challenges.
Kate Lister, who heads the flexible work advocate Global Workplace Analytics said, "We estimate for every half-time telecommuter, the employer saves about $11,000 a year. That's a combination of real estate savings, productivity, absenteeism, and turnover." In addition to these savings, FlexJobs recently conducted a survey of over 1,500 job seekers looking for more flexible work options and found that 20 percent of survey respondents would take a 10 percent pay cut for flexible work options. 22 percent would be willing to forgo health benefits, and 18 percent would be willing to work more hours.
Another cost savings is employee productivity.  Studies show that employees who work from home are more productive than those who work in a typical office environment. Employees working at home have greater autonomy, face fewer interruptions, can focus on their work and tend to work more hours – even when sick. Telecommuters tend to work until they get their task-at-hand done and do not watch the clock to leave work.
According to FlexJobs' survey, the number one reason people think they would be more productive working from home is the reduction of office politics (61 percent). Fewer interruptions from colleagues was close behind (59 percent), as was fewer general distractions (56 percent).
The Gallop survey found that employees spending 60 – 80 percent of their time away from the office had the highest rates of engagement. This allows employees to work remotely most of the time but still having face time with managers and coworkers
Flexible scheduling and work-from-home opportunities will raise the reputation of your company and is an effective recruiting and retention tool.  Gallup State of the American Workplace survey found that more than 53 percent of employees say a role that allows them to have greater work-life balance is "very important" to them when considering whether to take a new job.  80-90 percent of the U.S. workforce said they would like to telework at least part of the week (Global Workplace Analytics).  Having work-from-home opportunities can help a company steal away top talent from their competitors and hire the best, no matter where they are.  Not only does it help recruiting, but helps retain employees too! 82 percent of employees said they would be more loyal to their employers if they had flexible work options. If companies don't adapt to the needs of the modern workforce, they will find themselves struggling to attract and keep great employees and therefore customers.
Employees remain the core component in a company's success or failure. Leaders must think about their flexible scheduling and work-from-home policies—because this is a significant factor that influences the recruitment, engagement, loyalty and success of their employees. The key to profitable growth has been and always will be its workforce.