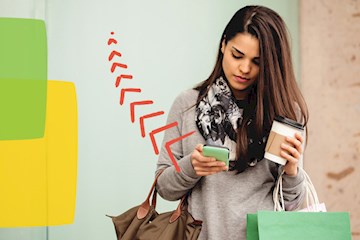 For those keeping an eye on the marketing research industry, you've seen how mobile devices enable us to connect with and understand consumers like never before.
Through qualitative approaches like mobile diaries and live video chats, or quantitative surveys completed on consumers' smartphones, leveraging mobile means near-constant access to consumers' behaviors, decisions, opinions and motivations. In fact, if you aren't leveraging mobile for your research, here's why you should.
However, there's another side of mobile device research growing somewhat behind the scenes: smartphone usage data.
The Value of Usage Data from Mobile Devices
Before we dive into usage data's specific impact on market research, here's a quick backdrop on the power of mobile devices as they relate to retail. Mobile plays a massive role in the buyer's journey. According to Google, shoppers move fluidly between online and offline.
Here are a few ways mobile is playing a role in the shopping experience:
Local searches on mobile devices are growing 50% faster than mobile searches overall.
81% of shoppers checked whether a product was in-stock before heading to the store to buy.
Mobile searches related to store pickup grew more than 3x in 2016.
Source: BazaarVoice "The ROBO Economy"
Now, how does usage data help with consumer research?
Shoppers are leveraging their mobile devices before and even after visiting a physical store. And when consumers use these devices, mobile carriers are collecting their usage behavior – from online shopping, app usage, social media interactions and everything in between.
Combined with details like location and demographics (e.g. age, gender, income), this collection of data becomes extremely valuable to companies looking to better understand and engage with their market.
Here's an Example of Leveraging Mobile Usage Data:
A retailer wants to better understand not only who is shopping at their location, but also how customers spend their time and money leading up to and after a store visit or purchase.
Using information from mobile usage data, the retailer identifies possible opportunities to play a bigger role in customers' routines by:
Anticipating what its customers need
Addressing any gaps, potentially before customers fully realize these need gaps exist
Ultimately, consumers are actually telling retailers exactly what they want and where they want it, simply by using their smartphones. French clothing retailer Petit Bateau used online-to-store analytics to develop a better understanding of its customer base's behaviors.
However, there's more to it than raw data. The numbers collected from usage data can only take retailers and brands so far.
Using Data from Mobile Devices for Consumer Research
While there is no doubt many opinions on the topic of consumer usage data collection and distribution, the wealth of information collected is tough to dispute. And, this method of collecting data is likely to continue rising given the overwhelming use of mobile devices.
Source: Google Data, U.S., Jan.–June 2015 vs. Jan.–June 2017.
But how do you use it to advance your brand and business?
Combination is Key
The actual value of that data is only truly useful when combined with more targeted and personal market research. In other words, the best approach is to take the objective voice of the consumer (raw numbers) and combine that data with experts to interpret what it all means and communicate where to go from there.
As a qualitative consultant, my personal hope (and belief) is that automated data collection will never replace the insights gained from actual human to human conversations – whether occurring in-person, online, or via mobile approaches.