Holiday shoppers have learned to love the ease and convenience of online shopping, but they're craving a little extra TLC from personalized experiences in stores.  The way consumers browse, shop and buy holiday gifts may be changed forever by six shopping behaviors learned during the pandemic.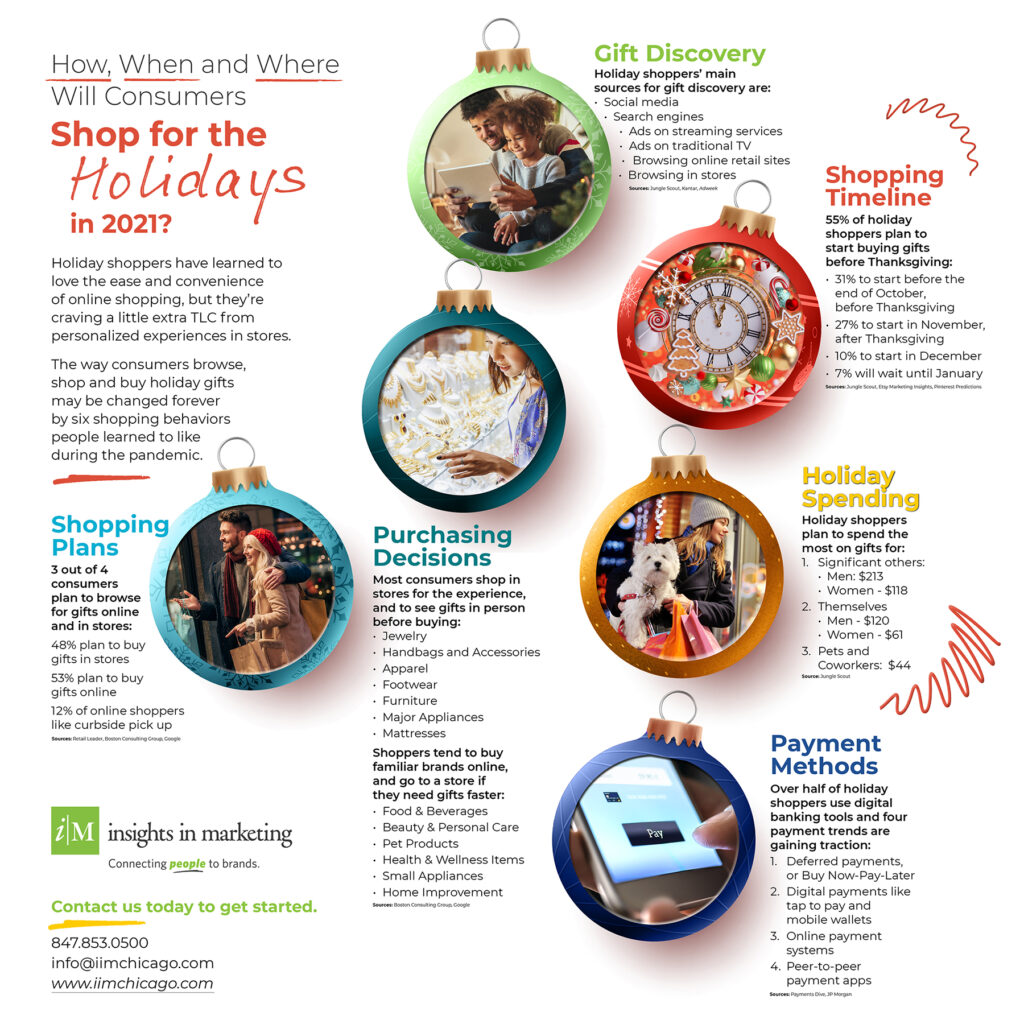 Gift Discovery
Half of all holiday shoppers find it difficult to know what to buy for others. Most consumers now discover gift ideas using smartphones to check social media, while simultaneously watching shows on a streaming service. Holiday shoppers' main sources for gift discovery are:
Social media

Search engines

Ads on streaming services

Ads on traditional TV

Browsing online retail sites

Browsing in stores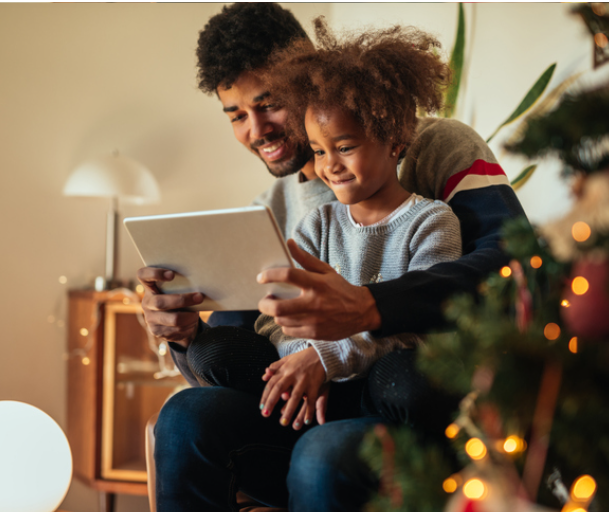 Source: Kantar, Jungle Scout, Adweek
Shopping Timelines
Online searches for holiday decor and gift ideas began to surge in April, and usually peak in September. Many consumers are planning to buy gifts earlier because of concerns about product availability and delivery delays. 55% of holiday shoppers plan to start buying gifts before Thanksgiving:
31% to start before the end of October

24% to start in November, before Thanksgiving

27% to start in November, after Thanksgiving

10% to start in December

7% will wait until January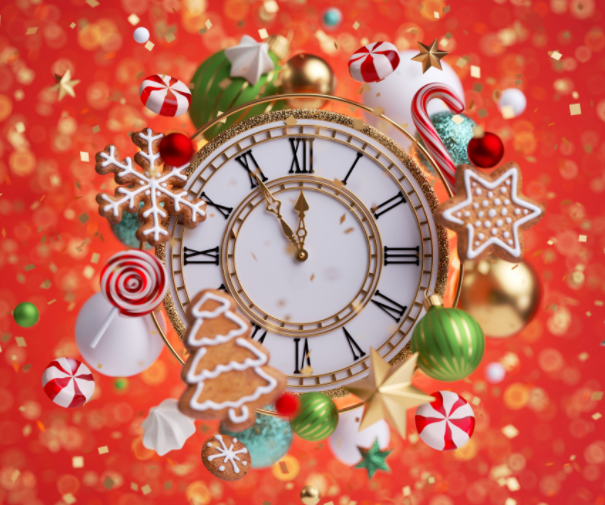 Source: Etsy Marketing Insights, Jungle Scout, Pinterest Predictions
Shopping Plans
Most consumers are ready for personalized shopping experiences and a little TLC in-stores, and also like the ease and convenience of shopping from anywhere, online. 3 out of 4 consumers plan to browse for gifts online and in stores:
48% plan to buy gifts in stores

53% plan to buy gifts online

12% of online shoppers like curbside pick up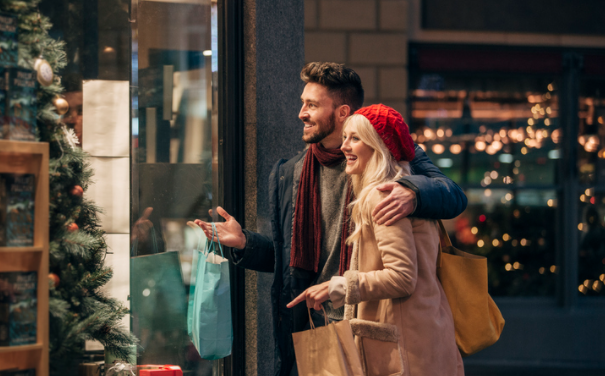 Source: Retail Leader, Boston Consulting Group and Google
Purchasing Decisions
Online searches are surging for personalized or customized gifts, and more holiday shoppers want their gifts to have a personal touch, like a card with the recipient's name and gift wrapping. Most consumers shop in stores for the experience, and gifts they want to see in person before buying:
Jewelry

Handbags and Accessories

Apparel

Footwear

Furniture

Major Appliances

Mattresses
Shoppers tend to buy familiar items online, and go to a store if they need gifts faster:
Food & Beverages

Beauty & Personal Care

Pet Products

Health & Wellness Items

Small Appliances

Home Improvement

Auto Parts
Source: Boston Consulting Group and Google
Holiday Spending
Surveys indicate men plan to spend twice as much on gifts as women, and Millennials and parents of young children expect to spend more than they did in 2020. Gen Z made it a priority to set aside savings for holiday gifts, and self-gifting is trending among younger consumers as a form of self-care. Boomers and Gen X plan to spend about the same amount on gifts this year. Holiday Shoppers Plan to Spend the Most on Gifts For:
Significant others: Men-$213 Women-$118
Themselves: Men-$120 Women- $61
Pets and Coworkers: $44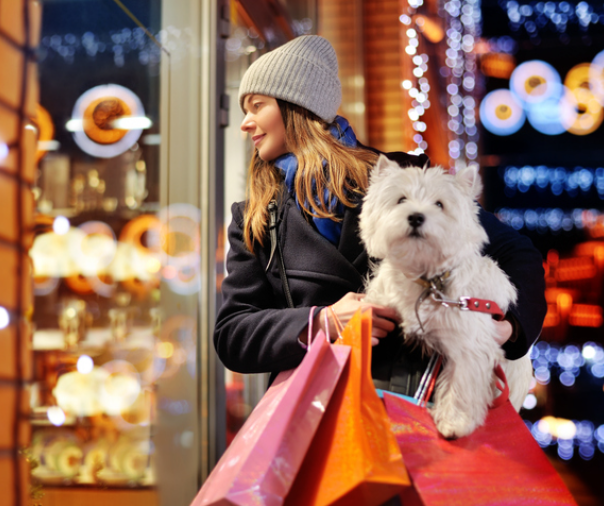 Source: Jungle Scout
Payment Methods
As a part of social distancing, consumers across every age group learned to use contactless digital payment methods, and they are gaining more traction. Over half of holiday shoppers use digital banking tools and four payment trends are gaining traction:
Deferred payments, or Buy Now-Pay- Later

Digital payments like tap to pay and mobile wallets

Online payment systems

Peer-to-peer payment apps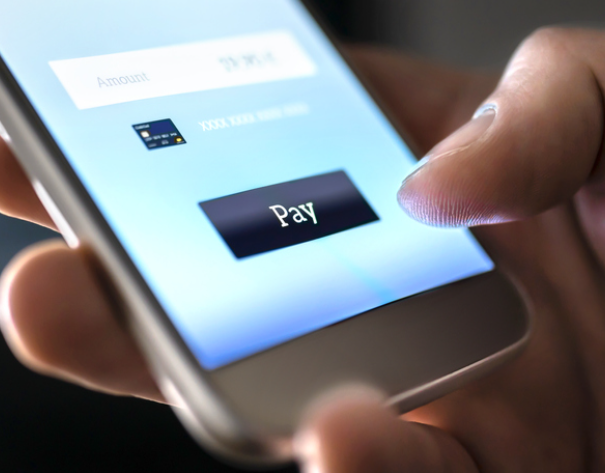 Source: Payments Dive and JP Morgan
Consumer Research Provides Strategic Insights about Shopping Behavior
Consumer research can help you understand your customers' unique holiday shopping journey, and how Covid-19 is changing lifestyles, values and consumer behavior. Qualitative, quantitative and quick turn research solutions deliver actionable and strategic consumer insights to innovate and optimize the customer experience, messaging and marketing mix.
How Can We Help You?
As a top ranked consumer research firm, our team at Insights In Marketing empowers our clients to make decisions inspired by the consumer voice. We have decades of client and supplier side research experience, and proven online methodologies to gather actionable insights from consumers either virtually, or from a safe location meeting CDC health and safety standards. Insights In Marketing is the market research firm that delivers in-depth and actionable insights so you can have every confidence your decisions are inspired by the consumer voice. Our team has decades of client and supplier side research experience, and our marketing expertise spans across various industries and consumer segments.
Want to Read More?
Do you have a question or you'd like to see featured in an upcoming blog? We would love to hear from you! Please send questions and suggestions for blog topics to info@iimchicago.com.
Follow Insights in Marketing, LLC on LinkedIn, and join our mailing list to receive our consumer insights blog and quarterly newsletter. You'll learn about evolving consumer values, lifestyle changes, demographic shifts and new buying behavior that can drive growth and innovation.