When it comes to holiday shopping, 2018 was legendary. Breaking records left and right for both in-store and online, many retailers and brands felt the joy of the holiday season in a big way. But what about the 2019 holiday shopping season? Could it potentially break even more records, or have we reached the peak of consumer spending during the holidays? We dove into the research to find out, and we've got some predictions we think you're going to love.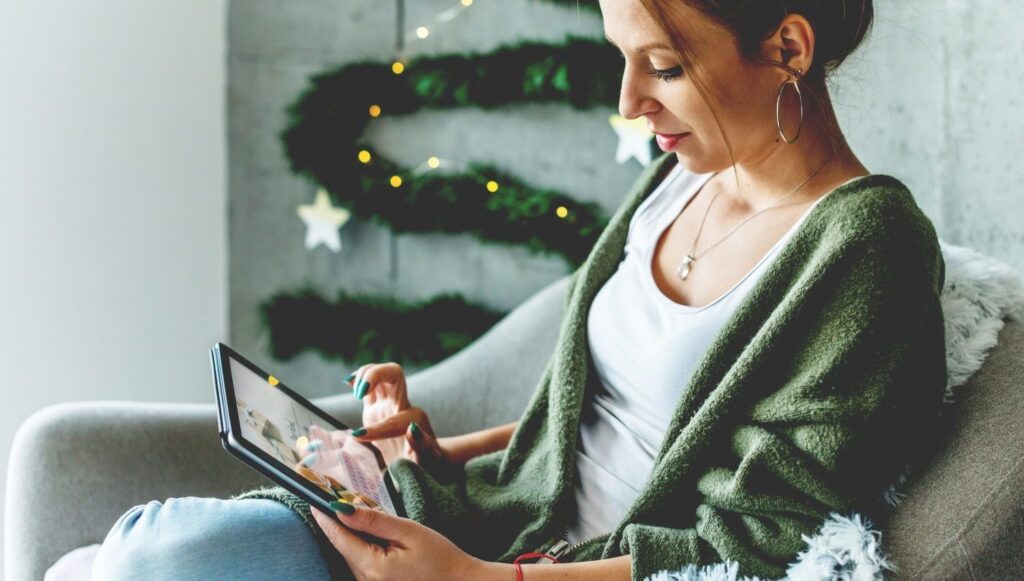 What's the 2019 Holiday Shopping Season Up Against?
Looking at 2019 in comparison to 2018, it's possible to get a little discouraged. There are wide concerns about the state of the economy and whispers about a recession that can be heard around the retail industry. And adding fuel to the fire, the 2019 holiday season is a short one with 6 days less between Thanksgiving and Christmas than the calendar had last year.
Without really looking at the research, it can be discouraging to think about consumers having less time to shop paired with economic concerns. But when we look at the data, we don't see fear and hesitation. Instead, we're seeing consumers who are confident in economic growth and likely to drop some major cash at the last minute when they realize the clock is ticking faster this year.
To put down some numbers, most research we've uncovered reveals that sales are expected to grow 5% this year, which puts the 2019 holiday shopping season well into the $1.1 trillion dollar range. That's a gigantic number, so let's breakdown what's really at play and what your brand can do to take a piece of the holiday shopping pie.
E-commerce Will Lead the Way in the 2019 Holiday Shopping Season
There's no doubt that e-commerce is a giant that keeps on growing. We certainly haven't reached the plateau of online shopping, and this year is predicted to keep the upward moving trend. In 2018, e-commerce grew by 11.2%, and this year, the numbers are expected to grow 14-18% beyond that. To give you some shocking numbers to put things in perspective, last year, e-commerce spending came in at $126 billion. This year, that number is expected to grow to $143.8 billion.
E-commerce will certainly play a huge factor this year with the shorter calendar days. Retailers and brands will likely extend Black Friday and Cyber Monday deals, and consumers will jump at the chance to take advantage of last-minute shipping when they realize Christmas feels like it arrives a lot sooner this year. Cyber Monday is already poised to grow 18% and bring in the first-ever $9 billion dollar day in the history of online shopping.
How can you as a brand cash in on the e-commerce trend? Make sure you have a strong online presence, and don't neglect online ads. 68% of shoppers say that have gotten gift ideas from online ads, and nearly half say they make a purchase after seeing an ad. Email marketing is your friend here too with 68% of consumers saying they pay attention to promotional holiday emails.
Know Your Target Audience and How They Shop During the Holidays
Not all holiday shoppers will shop in the same way this year, so make sure you understand your target audience. There's a generational gap in how consumers approach holiday shopping, so pay close attention to your consumers' demographics to make sure you're meeting them where they're at.
If millennials are your target, then you're in luck because they plan on spending 25% more than boomers this year. The best way to reach them? On their mobile device, of course. 69% of millennials indicate that their mobile device will be their primary way of shopping this holiday season. And if you really want to reach them, advertise on streaming services. They spend 75% more of their time on streaming services than they do on traditional TV, and 30% have said ads have influenced them to make an impulse buy.
For those with a female audience, you're also in luck because last year, women drove 70-80% of the purchasing decisions. But, keep in mind, a staggering 92% of women say that price is their number one factor when making a decision to buy. If you're targeting women, offer discounts this season to stand out against competitors.
Finally, don't neglect the newest shopping generation – Generation Z. Unlike millennials who are all about the convenience of e-commerce, Generation Z prefers an in-store experience. The most social-media influenced a generation, this trend is potentially the result of having "Instagram-worthy" experiences. Last year, Gen Z'ers were 10% more likely to wait all night for the in-store Black Friday experience than other generations. If you have in-store displays, make them Instagram-friendly to reel in this audience.
Make the Holiday Shopping Customer Experience the #1 Priority
Grabbing customers' attention with advertisements is definitely a critical success factor during the holiday season, but marketing efforts aren't everything. Customers have high expectations about their shopping experience, both in-store and online, so make sure you take their experience into consideration. Last year, only 50% of sales could be attributed to marketing efforts; the rest of the sales were all about brand trust and shopping experience.
If you really want to get ahead of the game, you've got to beat the king – Amazon. On Cyber Monday last year, Amazon broke their own conversion records with a 15% increase over their normal conversions. The top competitors stayed at the top because they focused on the customer experience.
When it comes to experience, convenience is key. Holiday shopping can get crazy, and most consumers want to avoid crowds and long lines. The two biggest ways they are achieving this are through BOPIS (buy online pick, up in-store) and taking advantage of fast shipping. Last year, BOPIS saw a 50% increase, and it's expected to keep growing this year. And as far as shipping goes, big box stores like Best Buy and Target saw a staggering 146% increase in conversions when they introduced free two-day shipping to consumers.
Key Takeaways
There's a lot to unpack here, and it's all really exciting stuff for retailers and brands. Here's a breakdown of the major success factors for the 2019 holiday shopping season:
Keep the deals going to the last minute. Shoppers might not realize they have 6 fewer shopping days than last year.
Know your target audience and how they shop. Meet them where they are at with advertisements.
E-commerce is everything. Make it easy and offer convenient options like BOPIS and free two-day shipping