Discover how Gen Z is disrupting the credit card industry
As the holiday shopping season heats up, we are discovering that buy now pay later fintech apps are gaining momentum – particularly among younger consumers shopping online. But why now?
Analysts say more merchants are offering alternative payment methods during their online checkout process to alleviate abandoned carts, increase sales and generate repeat business. And younger consumers on tight budgets find it hard to resist interest-free transactions.
A recent study by financial services firm Charles Schwab  reveals 'buy now pay later' fintech apps, or BNPL, are experiencing meteoric growth among consumers, with over half of shoppers reporting they have used services like Afterpay, Klarna and Affirm to finance purchases in 2022, compared to under 38% in 2021.
According to an April 2022 LendingTree poll, BNPL is most popular among Gen Z consumers (ages 18 to 25), and nearly 60% of Zoomers have tried a BNPL transaction. Millennials took a close second for BNPL usage, and the study found these micro loans are used slightly more by women than men. The study also reported a 40% jump in BNPL usage in 2022 among households making less than $35,000 a year.
An independent survey by Insights in Marketing  in July and August of 2022 confirmed these findings, and we dug deeper to find out why BNPL is gaining traction now.
We interviewed a diverse cohort of 1,000 adult Gen Z consumers between the ages 18 and 25. One of every five survey participants had tried a BNPL fintech app, and 80% of these Gen Z respondents said they used BNPL more often in 2022 than in 2021. The most popular BNPL services among our survey respondents were Afterpay, Klarna, Affirm and PayPal Credit – and many reported using multiple BNPL apps to finance online purchases.in 2022 than in 2021.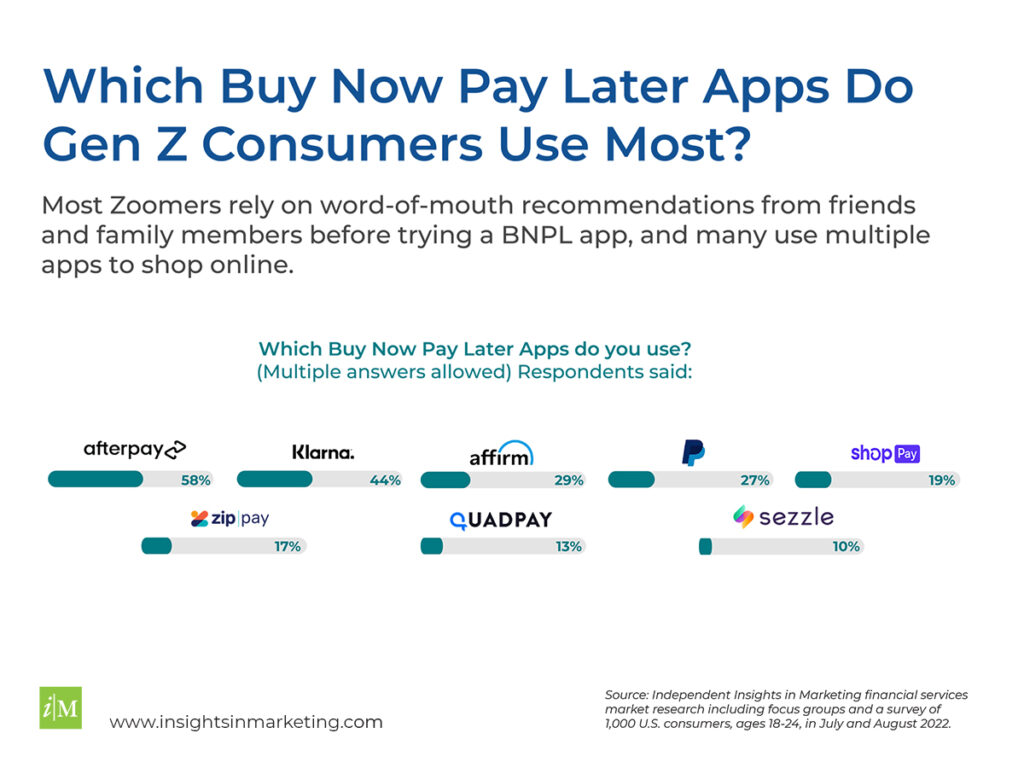 How does buy now pay later work?
Buy now pay later, or BNPL, is a form of a point-of-sale financing that enables consumers to pay for purchases through a series of smaller incremental payments – and shoppers receive their merchandise immediately, making it different than layaway.
Typically, borrowers pay an initial down payment at the time of their purchase, and then make three more equal payments every two weeks. However, some lenders offer options for the borrower to select the amount of equal, incremental payments they will make, and the timeframe can span between 6-weeks and 12-months according to a report by Forbes. 
According to a recent report by CNBC, these POS microloans are usually interest free and fee-free for consumers, if payments are made on time. Merchants pay a transaction fee to the BNPL lender, and according to a report by the Independent Community Bankers Association , these transaction fees range between 4% and 8% of the total sale.
How do Gen Z consumers discover BNPL services? 
A growing number of merchants are partnering with third party fintech lenders like Affirm, Afterpay and Klarna according to Forbes, and integrating BNPL payment options into their online or in-store checkout process. POS lenders usually use apps, websites or a digital card consumers access through a digital wallet on their smart phone.
In fact, all of the Gen Z consumers we interviewed discovered fintech lenders during the online checkout process, but it took a while for them to actually decide to try BNPL. Word-of-mouth recommendations from trusted friends or family members inspired most of our focus group participants to try a BNPL service the first time.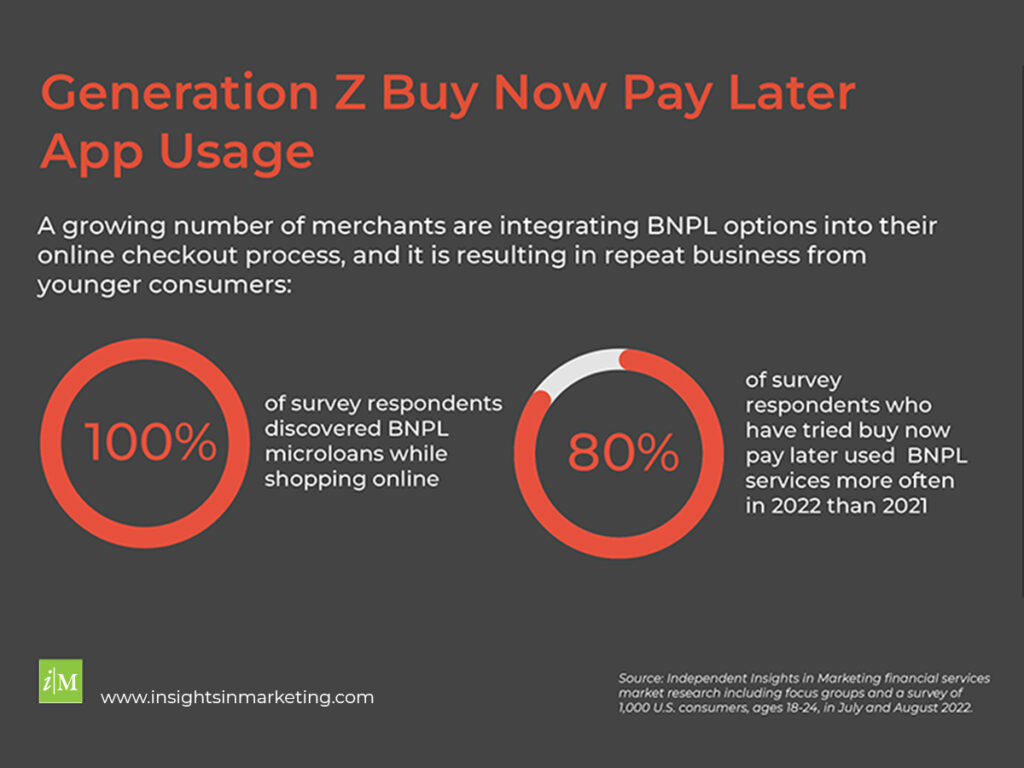 Why is BNPL gaining traction with so many Gen Z consumers?
According to a recent study published by Harvard researchers, the consumer credit market is ripe for disruption, and use of BNPL is growing due to fees and regulatory constraints making it difficult for younger and lower income people to access credit.
IIM's independent market research supports this premise and indicates BNPL is gaining traction with Gen Z consumers because BNPL loans are easy to secure, fee-free and interest free — as long payments are made on time.  
Many focus group participants like the fact fintech lenders use a 'soft credit check,' which involves nearly instantaneous loan approval with the verification of a social security number.
Our study participants were very concerned about building a solid credit history and believe this type of credit check will not impact their scores. In fact, several participants said they used BNPL loans to demonstrate their ability to complete payments on time and establish a credit history.
What do Gen Z consumers like about BNPL?
The reality is, low credit limits prevent many younger consumers from using a credit card to cover the cost of big-ticket purchases, and many of the younger shoppers we interviewed were unable to qualify for a credit card or had a very low credit limit because they are full-time students without a source of income.
The Gen Z consumers we interviewed said paying for merchandise in installments enabled them to stretch their budgets, and avoid interest and fees associated with credit cards. They also believe it is safer to use BNPL services than a debit card to make purchases online.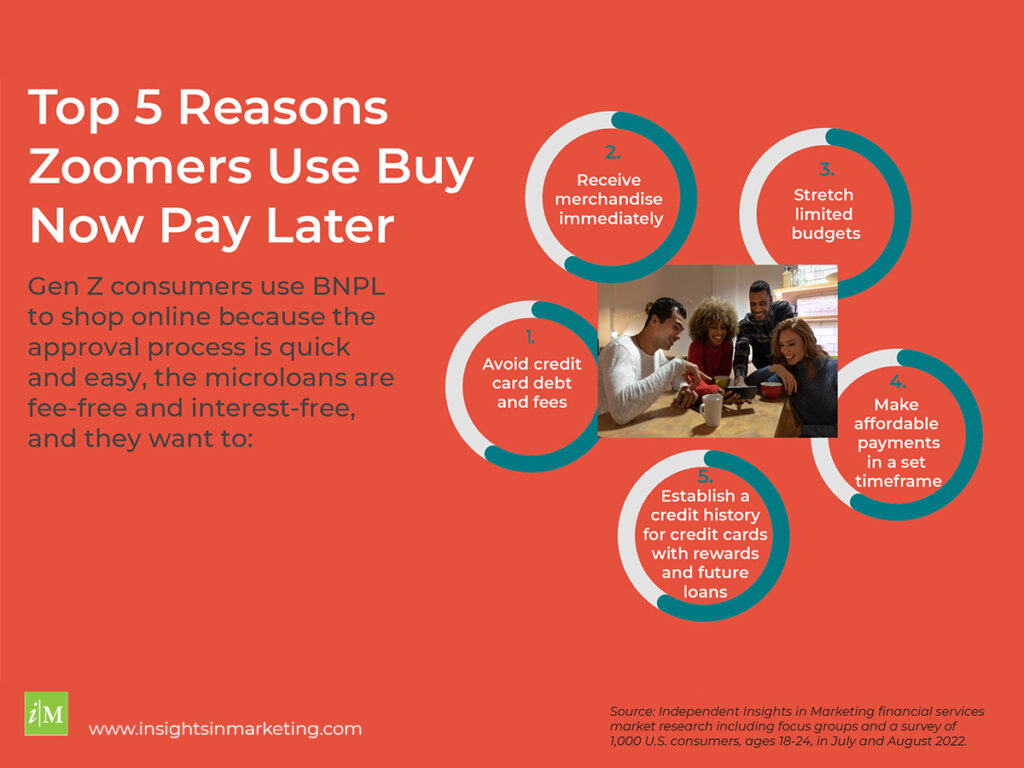 What do Gen Z consumers buy with BNPL?
IIM's financial services study revealed younger consumers tend to use BNPL for pricier online purchases and self-gifting – most focus group participants had used BNPL to purchase shoes and apparel, and a fair number of respondents purchased technology like computers or tablets they needed for school.
Several participants said they used BNPL to splurge on themselves, usually for cosmetics or gaming equipment.  And a few participants mentioned they used BNPL loans to finance airline tickets for trips to see family, or for vacations. Life stages also play a significant role in BNPL purchasing behavior. For example, older Zoomers who were newly married, or moving into their first apartment were more likely to use BNPL to try to stretch their budgets, and pay for one-time, big-ticket purchases like furniture, or items they had not planned on buying, like appliances.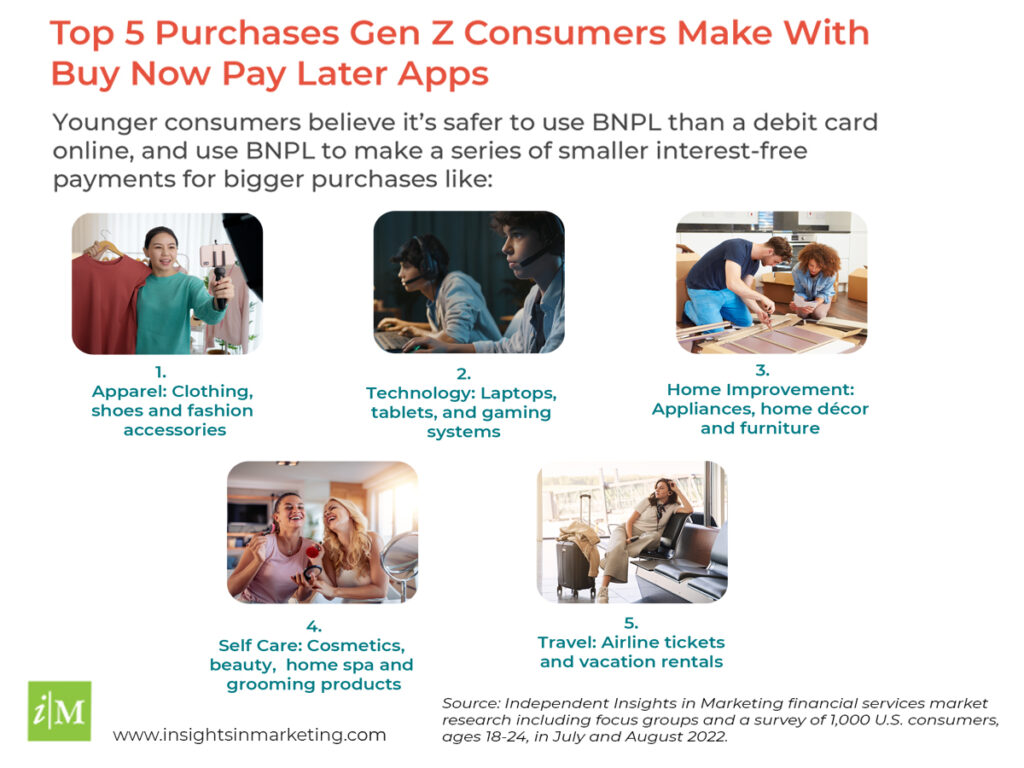 What do Zoomers dislike about BNPL? 
Many of our sources reported negative experiences returning items purchased with BNPL apps and felt frustrated by the amount of effort and time it took to receive refunds for returns.
Most of the Zoomers we met also expressed concern about overextending their finances and said it way too easy to make impulsive purchases online using BNPL. Almost all of the study participants had felt buyers' remorse for a BNPL transaction, and said it was often difficult to continue making payments.
All of our focus group participants said they actually prefer the security and convenience of credit cards for online purchases and would like to be able to earn rewards for their big-ticket purchases.
However, high interest rates deter many younger consumers from staggering credit card payments for more expensive items. And many younger participants said they had not applied for a credit card due to annual fees or were working to improve their credit score to be eligible for a credit card with rewards.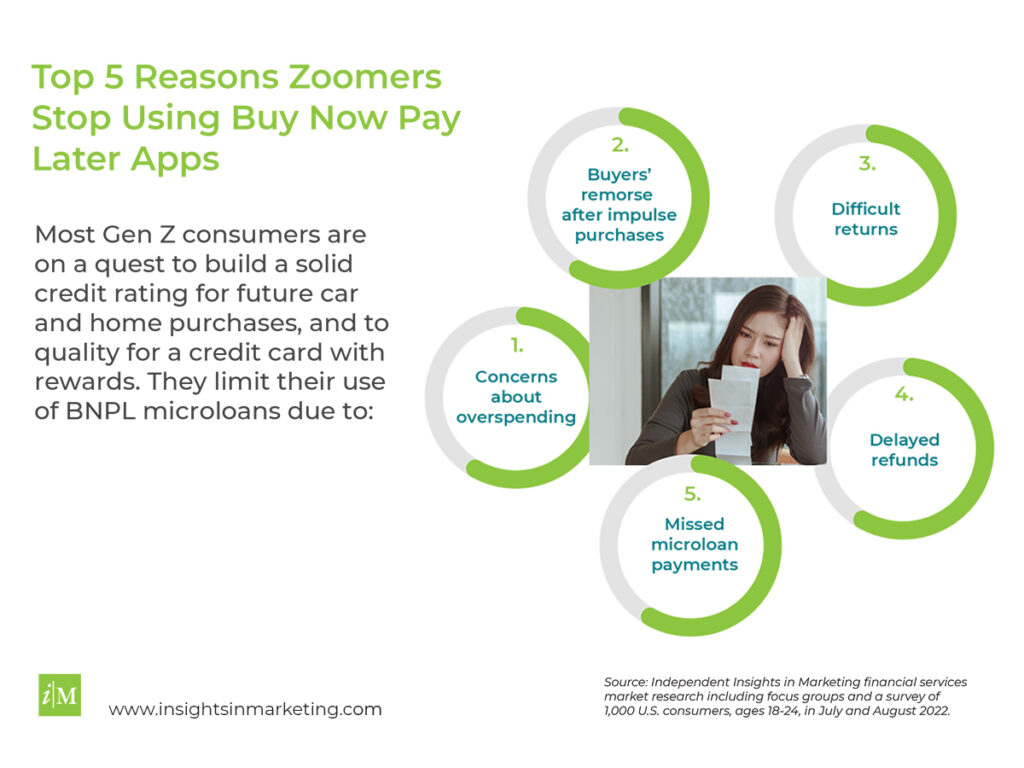 What are the risks associated with BNPL for consumers and merchants?
The Credit Union Times cautions BNPL products can be debt traps for consumers, and The Gen Z shoppers we interviewed said they tend to make impulsive purchases and spend more money than they normally would when using BNPL.
In fact, the study by Lending Tree revealed that almost 70% of consumers who have used BNPL services admit to overspending.  And 42% of consumers who have used a BNPL service said they have made at least one late payment.
Missed payments for BNPL services can have steep penalties, often resulting in payments of 25-30% over the actual cost of the merchandise according to Forbes.  This presents financial risks for younger consumers according to the Consumer Financial Protection Bureau, and can create headaches for merchants. In fact, about 13% of merchandise purchased through BNPL lenders ends up being returned for a refund.
Our market research approach
By combining exploratory quantitative and qualitative research methods, we gained a deeper understanding of the logic behind Gen Z spending behavior, and gained insights about how younger consumers actually feel about financial services institutions and use products including credit cards, debit cards, fin-tech apps and brick and mortar banks.
We Initially conducted secondary research and surveyed a diverse cohort of over 1,000 Generation Z consumers, ages 18 to 25 to gain insights about the impact of inflation on purchasing behavior. The survey revealed some major shifts in lifestyles and spending habits, and generational differences in purchasing behavior.  
We explored these trends in more depth during online focus groups. These small group discussions revealed strategic insights about the underlying emotions, lifestyle shifts and habits shaping younger people's shopping behavior, and generational differences in attitudes and usage related to financial services institutions and products.
Three key takeaways from IIM's independent financial services market research
Three common themes were remarkably consistent in all of our conversations with Gen Z consumers – despite the diversity of the research participants, and the fact we conducted two separate focus groups:
Feelings of distrust toward lenders and creditors: All of the focus group participants shared that they feel distrust toward lenders and credit card companies, and many participants used the word 'predatory' to explain their feelings toward financial institutions, mainly due to high fees and rising interest rates which are beyond their control. Interestingly, they did not express negative sentiments toward fin-tech services, and most felt fees or interest charges from BNPL transactions result from personal choices.
A trusting relationship with banks: All of the focus group participants said they routinely visit brick and mortar banks, and trust bank employees for financial advice. They also prefer the security and ease of depositing checks and withdrawing money in person.  Very few focus group participants reported using online banking services or apps. However, they do link their bank account to money transfer apps like Venmo to pay back friends, and Zelle to pay rent or Apple Pay to buy merchandise from sites like Facebook marketplace.
Financial intelligence: All of the research participants we interviewed agreed that ultimately, they are on a quest to build a solid credit rating, and this influences their spending behavior more than any other factor.
Participants in both of our focus groups had a very high level of financial intelligence, and most attributed their knowledge to online research, advice from their brick and mortar bank employees and information from Experian, one of the three main credit bureaus.
Many participants said they aspire to achieve a credit rating of 800, and all of the focus group participants are actively taking steps to strengthen their credit scores. Most research participants said they have two credit cards, but most are limiting their use of credit due to financial uncertainty and inflation. In fact, Experian's annual State of Credit Report  supports our findings, and shows that younger consumers, in particular, are leading the way with responsible credit management. According to a recent report by CNBC, Gen Z consumers actually have missed fewer credit card payments than all generations, except the Silent Generation – senior citizens born from 1928 to 1945.
How we can help you gain a deeper understanding of consumer behavior
Combining quantitative surveys, attitudes and usage studies and qualitative research methods, such as exploratory focus groups, our clients gain a deeper understanding of the values, needs, interests and feelings influencing consumer sentiment, shopping behavior and spending habits.
We conduct independent studies to be in the now, and this research project enabled us to gain strategic marketing insights about the logic and subconscious emotions shaping younger people's spending behavior and purchasing decisions, and generational differences in attitudes and usage of financial services products.
Want to Learn More? 
We have acquired a wealth of knowledge through three decades of consumer research experience and develop customized market research methodologies providing actionable insights about the underlying drivers motivating people to use a service, buy a product, choose an employer or invest in a business. 
Get in touch with our team of researchers, and learn more about Insights in Marketing through our case studies, infographics, and blogs.