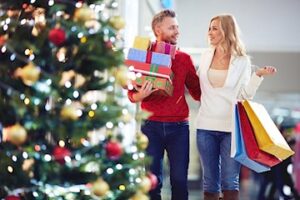 The biggest shopping season of the year is here, and consumers are already spending more than they ever have before. Black Friday and Cyber Monday broke through all historical records and saw approximately a 20% increase from 2017 spending. With an expected spend of $5.9 billion compared to the actual spend of $6.2 billion, this holiday shopping season is breaking every record.
We've dug through the data, and in this two-part series, we're going to lay out all the insights you'll need to take advantage of the most profitable holiday shopping season yet. With a focus on the differences between the holiday shopping habits of men and women, we'll break down not just the what, why and how, but also the who.
In Part I, we're going to dive deep into the what and why, looking at how much consumers have already spent and where they've spent it. Then, in Part II, we'll dig into holiday shopping behaviors, looking at the technology different consumers are using and how they're buying both in-store and online.
The 2018 Holiday Shopping Season Has Already Soared Past The Estimates
Going into the 2018 holiday shopping season, there were no doubts that it was going to be one of the biggest so far. The National Retail Federation reported that consumers said they would spend an average of $1007.24 each during the entire shopping season, a 4.1% increase from last year. Deloitte, one of the "Big Four" accounting agencies, indicated in their annual holiday economic forecast project that total retail sales would increase 5-5.6% from last year.
When it comes to the difference between men and women, surprisingly, Natural Insight in Marketing estimated that 19% of men planned to spend more than $500, compared to only 12% of women. Most men and women said they'd spend less than $250, around 57% for women and 50% for men.
The holiday shopping season is still in full swing, but the estimates we've just mentioned have already been surpassed. In 2017, consumers spent $691 billion for the entire holiday shopping season. This year, they've already spent over $58 billion. The average consumer spent $413 and almost half have only completed around 25% of their shopping.
The projections might have estimated an average spend of $1000 per person, but now it looks like the average consumer will be spending over $1600. That's a 63% increase from the NRF's estimates and a 640% increase from NIM's survey.
The bottom line is, men and women are not only spending far more this year than last, they're spending more than anyone thought they would, including themselves. There's still lime left for shopping, and most consumers wait until the last minute.
The Shopping Season Isn't Over Until Christmas Day
Black Friday and Cyber Monday might have surpassed all the predictions, but there's still time left for sellers to take advantage of this runaway season. Peak buying times start at Thanksgiving and carry on through mid-December. In fact, 57% of consumers don't anticipate being done with their holiday shopping until 10 days before Christmas.
Even more excellent news for retailers, buyers spend more after Cyber week than they do before – 26% more in fact. That means you can expect this holiday shopping season to grow more and more every day up to Christmas, with each day bringing in over $1 billion in revenue.
While most consumers say they'll be done with their holiday shopping by December 15th, 20% say they'll be shopping all the way to the last minute. Historically, the lowest revenue days are December 22nd, 24th, and 25th.
So, what are consumers buying with all that money? The statistics aren't surprising there – tech and toys. But what's really important for retailers to understand is that buyers are looking for bargains.
Shoppers are Spending More, but They Still Expect Bargains
Whether consumers are spending big or trying to save, they're always expecting bargains. Deloitte noted that this year, most buyers (74%) value a great deal more than any other factor. The National Retail Federation agrees, stating that 71% of consumers value sales and discounts as the most important factor in choosing where to shop.
It's clearly important to offer a great deal around the holiday shopping season. In fact, 85% of consumers said they have backed out of a holiday purchase in the past because it wasn't on sale. This indicates a very clear motivation to find the right bargain during the holiday season. The name of the game is promotions, and if you're not offering one, you're missing out on sales.
However, it's important to note that there is a slight difference between how men and women approach deals during the holidays. Men are more likely to shop at full-priced retailers than women, and are far less likely to shop at discount retailers – 18% of men compared to 31% of women will visit a discount retailer.
In either case, the large majority of consumers are so intent on shopping for bargains during the holiday season, 75% will even visit unfamiliar or new retailers just because they've heard about a great deal or sale. That indicates a level of effort and motivation that's fairly unique to the holiday season. What does this mean for retailers? Promote an excellent deal and earn new, loyal customers.
The holiday shopping season isn't just a chance to see profits soar, it's an ideal time to gain a larger, dedicated following of customers who trust your brand.
In the next part, we'll look at how all this information translates into shopping behaviors. Specifically, we'll look at where customers are shopping and how technology is changing the way we shop. Cyber Monday was an excellent indicator of how important online and mobile sales truly are, and in Part II, we'll comb through the supporting data. Stay tuned!